Volcano Pink Petite Signature Jar
---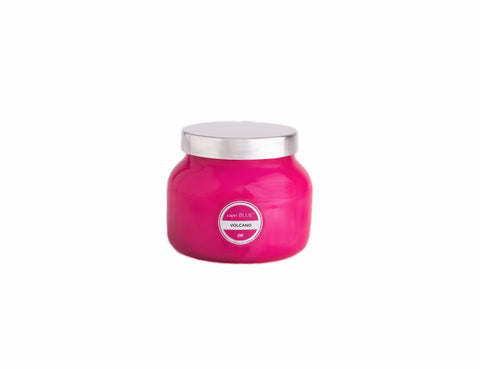 This Pink Petite jar adds the perfect pop of color to liven up any space.  Chic and pink...what's not to love?!   It's the perfect gift for a friend or yourself.  Burn this candle to fill your space with delicious notes of tropical fruits and sugared citrus.  This scent is a customer favorite!
Scent: Tropical Fruits and Sugared Citrus
Material: Lead Free Hand Poured Wax
Burn Time: Up to 25 hours
Size: 8 oz
How To Burn Your Candle:  Always allow your candle to completely liquefy across the top before blowing it out to avoid tunneling. Before each burn, make sure your wick is trimmed to ¼". Do not drop debris, like matches or wick trimmings, into the wax. Do not place your burning candle on sensitive or uneven surfaces. Discontinue burning your candle when about ½" of wax remains.  DO NOT LEAVE YOUR BURNING FLAME UNATTENDED.  Burn your candle in a safe area away from any flammable materials.   Now go enjoy your candle.
Related Products
---