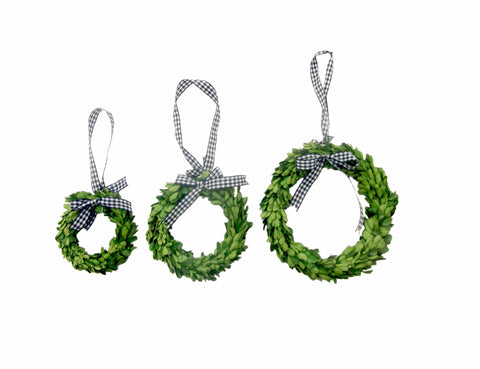 Each wreath features a black and white Gingham ribbon.  Hang a wreath on a tobacco basket, tie one onto the back of a chair, or hang on a wall with ironstone plates.  Individually or as a pair a boxwood wreath always adds a little charm to create a cozy cottage ambiance.   
Sizes:  Small: 6 inch round, Medium: 7 inch round, Large: 10 inch round
Material: Preserved Boxwood
Care: INDOOR USE ONLY.  Decorative Use Only. Avoid direct sunlight and extreme heat.  Mist lightly every 4 to 6 weeks, especially in dry climates.  Avoid over-watering.  When watering a fine mist should be used.  Excessive moisture from misting or environmental conditions may lead to mold or mildew problems or cause the preserved dye agents to bleed from leaves.  
Related Products
---