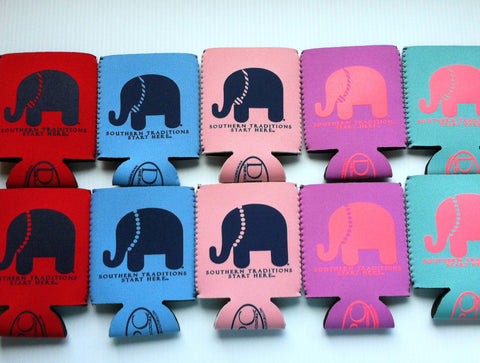 We have taken our top selling Preppy Elephant designs and added them to our koozies!  Featuring our Southern twist of what a preppy elephant should be...these koozies feature our Preppy Belle and Gent Elephant along with the bottom featuring our logo.
These koozies are a must have for summer fun by the pool, ocean, or lake...or just chilling inside with the A/C blasting!   Our original design features a strand of pearls on the belle and a beau tie on the gent.  If you like your politics preppy or just like preppy elephants these koozies are for you!
COLORS: PREPPY PINK (BRIGHT PINK), OXFORD PINK (LIGHT PINK), PATRIOTIC RED, ISLAND BLUE
100% Neoprene material
Designed in Athens, GA
Printed in Texas
All artwork is copyrighted and trademarked by Dixie Peaches Couture.
Related Products
---